Fresh ideas, smart strategy and clear copy from an award-winning pro. Project or ongoing work for agencies, marketing directors and other professional communicators.
---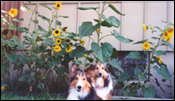 THE DOG BLOG
An unauthorized autobidography by Spunky, Jasmine and friends

Route 66 blog

ilikeabe.com

TriQuest Inline Skates

Private-label name development for company and sporting goods product lines, including consumer branding, trademarked original names, packaging and B2B sales materials for roller blade product line.