Fresh ideas, smart strategy and clear copy from an award-winning pro. Project or ongoing work for agencies, marketing directors and other leaders.
---

TOURISM & DEVELOPMENT

REAL ESTATE & HOME

HEALTH & HEALTHCARE

RETAIL, FOOD & GROCERY

TOYS & KIDS, FUN & GAMES

BUSINESS & INDUSTRY

BANKING & FINANCIAL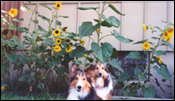 THE DOG BLOG
An unauthorized autobidography by Spunky, Jasmine and friends

Route 66 blog

ilikeabe.com





Better Homes & Gardens

Work for Better Homes & Gardens included newsletters and other publications written for homeowners. Additional BH&G work included consumer packaging copy for for gardening supplies.