Fresh ideas, smart strategy and clear copy from an award-winning pro. Project or ongoing work for agencies, marketing directors and other professional communicators.
---

TOURISM & DEVELOPMENT

REAL ESTATE & HOME

HEALTH & HEALTHCARE

RETAIL, FOOD & GROCERY

TOYS & KIDS, FUN & GAMES

BUSINESS & INDUSTRY

BANKING & FINANCIAL



PR, Issue Campaigns & Events
Ads & Advertising
Packaging, Identity & Retail
Brochures & Collateral
Internet and Digital
Direct Marketing
Radio & Broadcast
Outdoor/Out-of-Home
News, Magazines & Content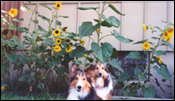 THE DOG BLOG
An Unauthorized Autobidography co-edited by BFF Spunky & Jasmine for dog lovers, sheltie fans & friends
OTHER SITES
Route 66 blog
ilikeabe.com


B2B Sales, Business and Industry Writing



B2B and Business Writing Expertise with an Edge

Whatever your product, industry or service, I write to meet your unique goals and marketing challenges. This includes seeing things from the end-user's perspective.

I can improve your sales by seeing your customers' world from their point of view:

That perspective may be from a speed skater's crash helmet, a construction worker's hard hat, a surgeon's loupe, a patient's call button, or a CEO's smart phone.

Whether it's high-touch healthcare or hard-hitting hammers, page-turning catalogs, traffic-drawing tradeshow exhibits or rose-colored PR, I solve marketing challenges.

My expertise includes work in most media. This includes e-newsletters; SEO content; integrated campaigns; direct marketing letter packages and collateral; branding, packaging and POP; and traditional advertising and public relations work.