Fresh ideas, smart strategy and clear copy from an award-winning pro. Project or ongoing work for agencies, marketing directors and other professional communicators.
---

TOURISM & DEVELOPMENT

REAL ESTATE & HOME

HEALTH & HEALTHCARE

RETAIL, FOOD & GROCERY

TOYS & KIDS, FUN & GAMES

BUSINESS & INDUSTRY

BANKING & FINANCIAL



PR, Issue Campaigns & Events
Ads & Advertising
Packaging, Identity & Retail
Brochures & Collateral
Internet and Digital
Direct Marketing
Radio & Broadcast
Outdoor/Out-of-Home
News, Magazines & Content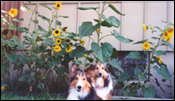 THE DOG BLOG
An Unauthorized Autobidography co-edited by BFF Spunky & Jasmine for dog lovers, sheltie fans & friends
OTHER SITES
Route 66 blog
ilikeabe.com





Hallmark Keepsake Ornaments:
Public Relations, Media and Direct Marketing




Above: Press releases and media/PR story ideas for craft publications. (11-page pdf) Writing style specific to craft industry publications and media editorial.

Left: Media kit and 3-D direct mail package.
Mailed with a sample ornament designed by a Hallmark artist, artist biographies, press release and other information.