Fresh ideas, smart strategy and clear copy from an award-winning pro. Project or ongoing work for agencies, marketing directors and other professional communicators.
---

TOURISM & DEVELOPMENT

REAL ESTATE & HOME

HEALTH & HEALTHCARE

RETAIL, FOOD & GROCERY

TOYS & KIDS, FUN & GAMES

BUSINESS & INDUSTRY

BANKING & FINANCIAL



PR, Issue Campaigns & Events
Ads & Advertising
Packaging, Identity & Retail
Brochures & Collateral
Internet and Digital
Direct Marketing
Radio & Broadcast
Outdoor/Out-of-Home
News, Magazines & Content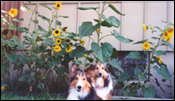 THE DOG BLOG
An Unauthorized Autobidography co-edited by BFF Spunky & Jasmine for dog lovers, sheltie fans & friends
OTHER SITES
Route 66 blog
ilikeabe.com




Work for Consumer Retail and B2B via TPI studios, included private-label and outsourced packaging copy, sales collateral, consumer and B2B copy, retail materials, trade publication ads, photo shoot assistance, and more for retail, merchandising and importers.